The Food Open Data Challenge: How can we use open data to change how we eat?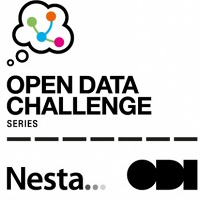 NESTA (a UK based innovation charity) and the Open Data Institute are running open data challenges on different themes like energy and housing. One of the challenges is the
Food Open Data Challenge
, and the question the organizers ask is:
"How can we use open data to help people eat more healthily, eat more sustainably and/or have a more secure food chain? The aim is to encourage teams use available open data to develop products and services to support people to make better choices with their food."
NESTA and the ODI have identified a list of 48 data sets related to food that participants can use in their products and services ideas.
One of the data sets is Open Food Facts. And indeed helping people to make better food choices is one of the main reason why we started to build a collaborative database on food products data (like ingredients, nutrition facts, labels, packaging codes etc.).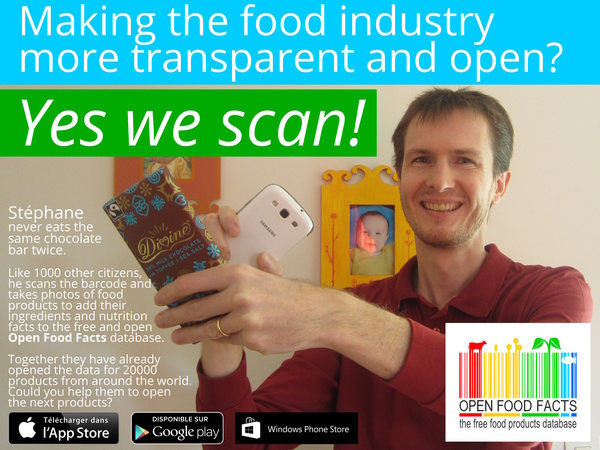 Knowing before choosing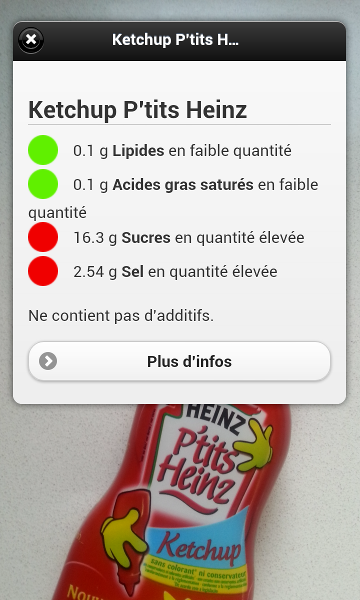 The data on food products that we gather on Open Food Facts can be used to decrypt food labels, for instance decoding the "E-numbers" for additives like E150d. E150d is the sulfite ammonia caramel used to color almost all colas. California has added it to its list of chemicals "known to the state to cause cancer" so you won't find it anymore in the US. But it's still used in most colas in Europe. But that's just one of hundreds of food additives, how many E-numbers can you remember?
Another thing we can do with the data is to present it in ways that make it easier to understand. In addition to the nutrition facts table, we also show the "nutrition trafic lights" : green, yellow and red color dots that show the amount of sugar, fat, saturated fat and salt. It is a system that is widely in used in the UK but that the food industry successfully lobbied against in the rest of Europe.
But even if food manufacturers won't print the nutrition traffic lights on the label, we can still show it on top of it in "augmented reality" with the Open Food Facts Android mobile app: it visually recognizes packages (no barcode scanning or internet connectivity needed) and adds information on top.
Comparing products
Once the data for food products is in a database, it is very easy to compare products. For instance we can easily show how a product compares to other products in the same category. Consumers can therefore make healthier choices: hams with less salt, breakfast cereals with less fat, sodas and drinks with less sugar etc.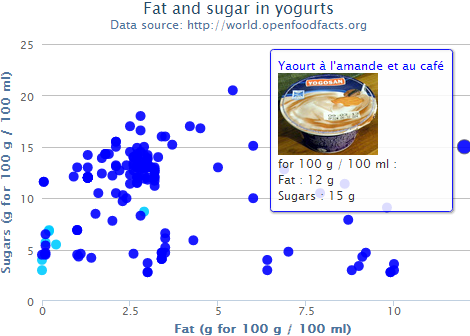 Click to see the interactive graph. You can create graphs like this for any category of products and any nutrients in just a few clicks.

Data you can play with
The Open Food Facts database is crowdsourced and made by everyone for everyone: all the data is published in open data under the Open Database Licence (ODbL) which means it can be used freely by everyone for any use (as long as they keep it open themselves as well). And any use often means uses that we would have imagined ourselves.
You can download all of the database in one click, and we encourage everyone to play with the data.
In fact we even made a game using food products data where kids (and adults) have to guess how much sugar there is in food products, using sugar cubes to show the equivalent quantity.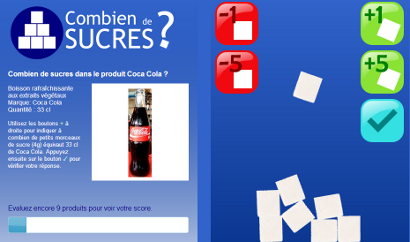 It's currently in French only but once we have enough products from English speaking countries, we will create an English version too.
Open Food Facts is coming to the UK!
Of course to do all this, we need a database of food products. We started to build one in France in a crowdsourced way: more than 1000 individuals have used our iPhone, Android and mobile app (or their camera) to scan barcodes of food products, take pictures of the ingredients list and nutrition facts table, and enter data on the products they eat. We now have 25000 products (18000 from France), which is enough to create really cool (and more importantly: really useful) applications.
We are convinced that data on food products is of public interested and needs to be open. Not just for France, but for all of the world. So we built our platform so that it can support all countries and with the help of our contributors, we translated it in 10 languages already (some need more help!).
So the system is in place, it is working, what we also need now is more people to open their fridge and kitchen cupboards and add products to Open Food Facts.
Our own food open data challenge: make Open Food Facts UK really take off!
We are very happy that NESTA and the ODI initiated this food open data challenge and that it will show the potential of food open data (and the need for it). We think our database of food products could be very useful to challenge participants, and we would like to take this opportunity to really make Open Food Facts take off in the UK.
So we are starting a project to create a local community of Open Food Facts contributors in the UK and to reach the critical mass of UK food products in our database. And we need your help.
Creating local communities of contributors in the UK
Today only a few of our contributors are located in the UK. Some of them are very active though as they have already opened the data for 500 food products in Open Food Facts UK.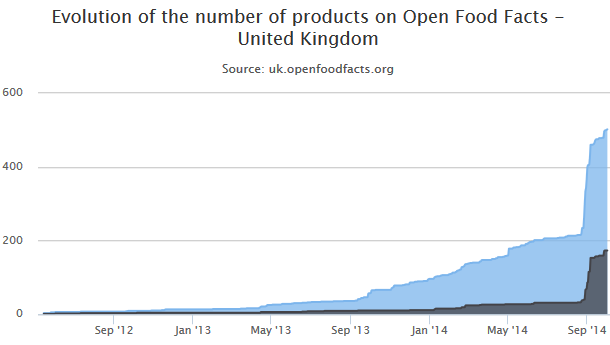 But we need more local contributors, not only to add products, but also to come up with more ideas and applications for the data that can be useful in the UK. We also need people who can help us to share the word about Open Food Facts and who can present the project in all kinds of events (e.g. open data / tech events but also food / nutrition events). Whenever we present the project, we always generate a lot of interest and enthusiasm from the audience when we start showing examples of what we can do with the data. And almost every time, the audience comes up with ideas that we had not thought about before. It is very exhilarating.
If you would like to present Open Food Facts in your city, we can give you slides that you can present as-is or adapt to your liking. Here are some slides in English from a presentation we made:
More UK specific applications and features
In the last couple of weeks, we started to add more features to make Open Food Facts more useful in the UK. For instance we just added some UK Food Labels:
And we need you to tell us what else we should add to the site.
Another thing we are working on is a British version of C'est emballé près de chez vous ("Made near you" in French) which shows where food products are packaged or made.
Join us!
We certainly have a lot of work ahead of us, so if you would like to help to grow Open Food Facts in the UK, or in any other country, please do get in touch!
By mail: contact@openfoodfacts.org
On Twitter: @OpenFoodFacts and @OpenFoodFactsUK
We also have a Facebook group for contributors.
Install our app and open your fridge!
To add products to Open Food Facts, the easiest is to use our iPhone, Android or Windows Phone apps. You can also just use your camera to take pictures of products and upload them on the Open Food Facts web site.

Thank you!