Discover what food products are made near you with Made Near Me!
Today we are launching
Made Near Me
, an interactive map that shows where food products sold in the United Kingdom are made.
Have you ever noticed those cryptic codes in an ellipse printed on the label of food products, like this one on a Greek Style Organic and Fat Free Yogurt?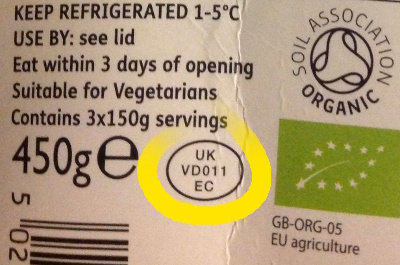 This "UK VD011 EC" code is an approval number issued by the FSA (Food Standards Agency). We can look into the data published by the FSA to see that this Yogurt was made by the Rachel's Dairy Ltd company in Ceredigion. And we can see that they were last inspected by the FSA on March 12th 2014 and that their food hygiene rating is 5 out of 5.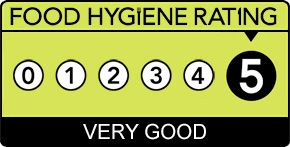 A fun thing to do on Open Food Facts is to look what other products are made by the same factory. Here are the products we already know for UK VD011 EC.
Sometimes factories make products for different brands. For instance we can see that the Yeo Valley Farms factory near Bristol produces yogurts for the Yeo Valley brand, but also for ASDA and Waitrose.
To do this we mixed our own open data that we are crowdsourcing on Open Food Facts with open data published by the Food Standards Agency. Since we get interesting results by mixing open data sources, let's put one more into the mix! With the approval numbers we can get the name of the factory, but we can also see where it is located. So why don't we map all those food products and put them on a geographic map powered by OpenStreetMap, the crowdsourced map in open data?
And that's what we get: Made Near Me, an interactive map of food products sold in the UK!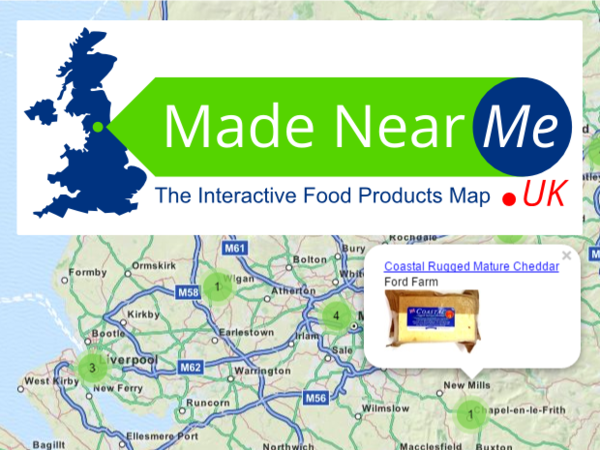 So what's made near you?
Of course we are just getting started. So far we have 700 products sold in the UK in Open Food Facts. But the good news is that you can help us! With your iPhone or Android or Windows Phone smartphone, it is very easy to add food products to Open Food Facts. All you have to do is to scan their barcode and take a few pictures of the product, the ingredients list and the nutrition facts table.
Made Near Me is made by you!
This map is made by people like you and us, volunteers with a desire to do something interesting and useful. Not only the food products have been added by people like you, but the map itself has been created by thousands of individual contributors! This map is not Google Map. It's better. It's OpenStreetMap.
OpenStreetMap is actually a great model for us, and with other projets like Wikipedia, a great example of what people can do.
We hope you will join us and help create a free, open and global database of food products from around the world. In any case, please share and enjoy Made Near Me!
Special thanks
Made Near Me would not be possible without the work and help of:
our 1193 (and counting!) Open Food Facts contributors
the FSA that opened its approval and ratings data
the OpenStreetMap contributors and the authors of Leaflet
the UK Made Near Me team who added tons of UK products to Open Food Facts (their own and their neighbours' too!) and are now experts in OvalSpotting!
Thank you!