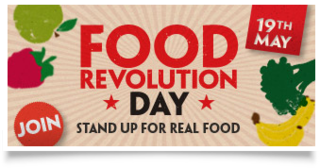 « Food Revolution Day » le samedi 19 mai 2012
Si vous aussi pensez qu'il est grand temps de repenser les façons dont on se nourrit, et que l'alimentation est l'affaire de chacun d'entre nous, vous serez très certainement séduit par le message du
Food Revolution Day
organisé ce samedi 19 mai 2012 par la Fondation de Jamie Oliver.
Food Revolution Day on 19 May is a chance for people who love food to come together to share information, talents and resources; to pass on their knowledge and highlight the world's food issues. All around the globe, people will work together to make a difference. Food Revolution Day is about connecting with your community through events at schools, restaurants, local businesses, dinner parties and farmers' markets. We want to inspire change in people's food habits and to promote the mission for better food and education for everyone.
En français : la Journée de la Révolution de l'Alimentation est une chance pour les personnes qui aiment la nourriture de se rassembler pour partager des informations, leurs talents et leurs ressources, de transmettre leurs connaissances et de mettre en lumière les problème liés à l'alimentation du monde. Tout autour du monde, des personnes travailleront ensemble pour changer les choses. L'idée de la Journée de la Révolution de l'Alimentation est de toucher votre communauté lors d'événements dans les écoles, les restaurants, les entreprises locales, des diners et des marchés. Nous voulons susciter des changements dans les habitudes alimentaires et promouvoir une meilleure alimentation et éducation alimentaire pour tous.