Presenting Open Food Facts at events: case study
2 weeks ago we participated in the Capitole du Libre, an event around free software, in the French city of Toulouse.
We came back enthusiastic about this experience, and in addition to telling you about it, we will try to encourage you to do the same! 🤓
Our experience at Capitole du Libre
Why present Open Food Facts
Keen to present in your country?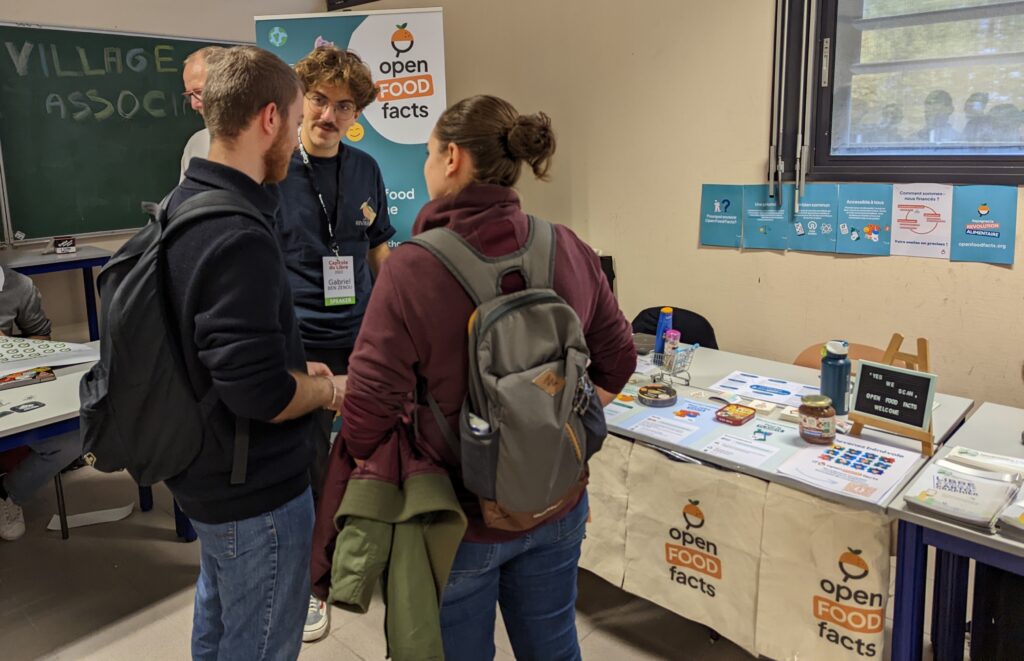 Our experience at the Capitole du Libre
Testimony of Gabriel, who presented Open Food Facts, during the Capitole du Libre
"Leading event in the free software domain, the Capitole du Libre 2022 held on the 19th and 20th of November in Toulouse was a great success. It was a really great event on many aspects:
We had the chance to meet the French open source, open content and open data communities, to keep a booth presenting all the latest activity at Open Food Facts, and to give talks.
Located between OpenStreetMap and OSGeo, that's where you would have found the Open Food Facts stand. All weekend long, many visitors came to our booth, reaching a total of about one hundred people by the end of the event.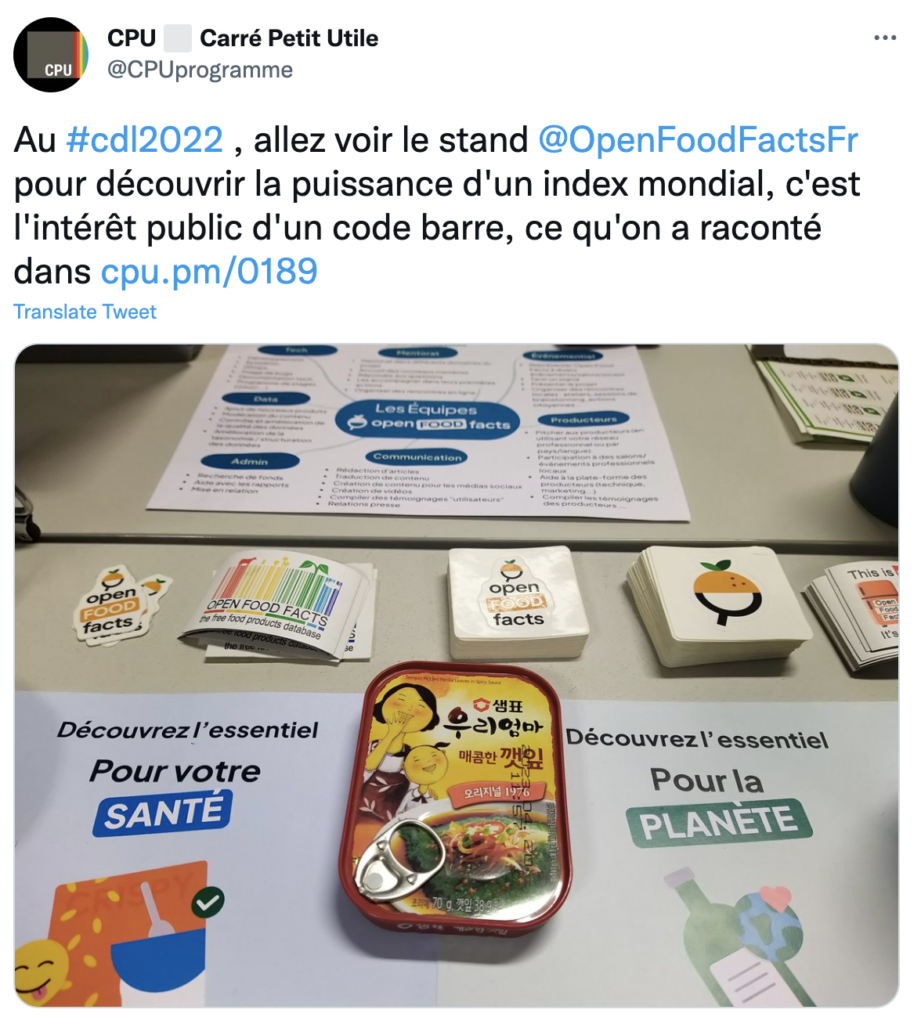 At such an event, the public is always very friendly, motivated to know more about how they could potentially contribute to the project. We had prepared various posters, product packagings and QR Codes, in order to try our app, to participate in the donation campaign or to fill a form to get into the contributive community of Open Food Facts (you can read more about this Contributor Skill Pool in this article).
Every discussion we had was enjoyable and allowed to both identify the diverse profiles of the people interested in Open Food Facts and to make them discover the project, thus spreading once more the word about our open project.
The Capitole du Libre allowed me to meet various other Open Source projects. Discussing with these many committed people who share their work and knowledge is always a fulfilling experience.
I was then given an opportunity to share my knowledge about Open Food Facts to around thirty people during a talk I gave on the theme "Artificial Intelligence for food transparency at Open Food Facts" (FR version). This conference was addressed to everyone interested by the project or AI in general, with or without technical background. After presenting the history of Open Food Facts, its objectives and its community, I presented on the way Robotoff works and its use of Machine Learning to improve the quality of the database.
I was asked several different questions after my talk, indicating to me that the audience had been interested by what they had heard.
In a nutshell, I was extremely pleased to participate in the Capitole du Libre 2022 for Open Food Facts !"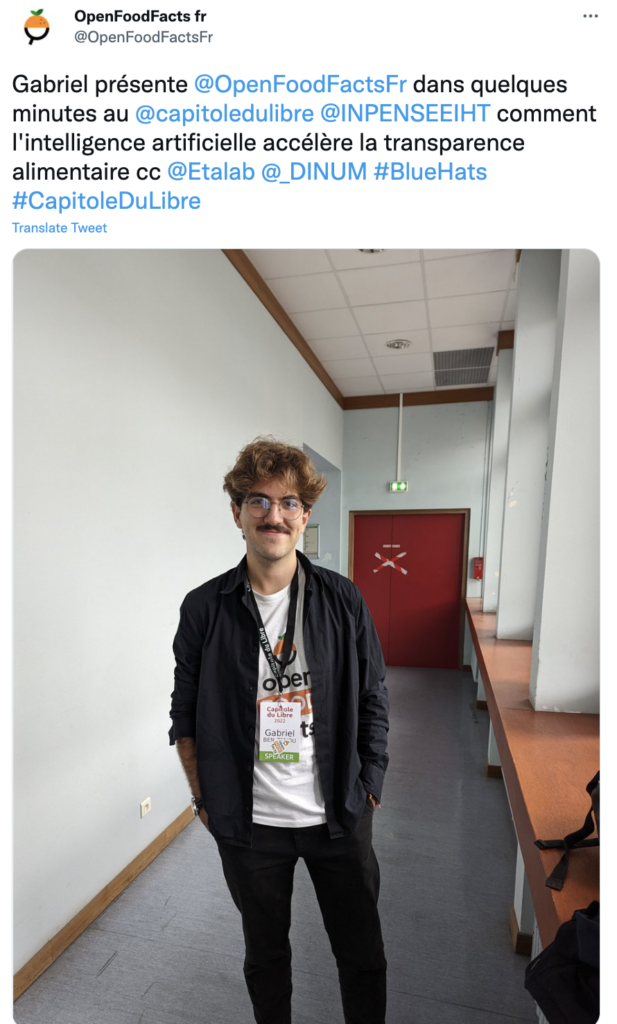 Why present Open Food Facts ? 🤔
Open Food Facts relies on citizen crowdsourcing of data
25 000 contributors have added 2.6 million products to Open Food Facts. The database includes products from more than 100 different countries, but the bulk of them comes from France – where Open Food Facts was launched in 2012 – and from a few countries like Spain, the UK, the US and Belgium where we have some very motivated contributors. We would like this motivation to spread: we need to add products from your country and try to reach a critical mass of products. More importantly, the project needs to create and develop strong local communities of contributors.
Creating local communities
To create this community, we need people who can present Open Food Facts in front of as many different audiences as possible, from the most obvious to the most unlikely ones. In France, we have accepted all invitations to present our project, and each time we have quickly connected with the people who attended our presentations. Food is a universal topic of interest that everyone relates to 🥗. Explaining how we can better understand labels, easily compare products and make more informed food choices always generates a lot of interest and enthusiasm.
Keen to present Open Food Facts in your country? 🙋
Would you like to contribute and/or to present Open Food Facts? Get in touch by email or on Slack!
Where ? 🏢 🏙 🏟 🏜
Here are some ideas of possible venues and audiences, but you will surely have other ones:
Open Data meet-ups and events
Free software / Open source meet-ups and events
Food and nutrition events
Schools
Presenting Open Food Facts is a piece of cake 😉🍰
We have ready-made LibreOffice, Powerpoint presentations you can translate and adapt into your language (if they've not yet been adapted). We also have transcripts and videos of people presenting Open Food Facts at various events.
Handling Q&A after your presentation 🔎
People usually ask many questions because the project and your presentation was thought-provoking. It's a good sign and nothing to be worried about:
There is a page with the frequently asked questions about the project. It lists those that we get asked the most often.
If you don't know the question (which happens to all of us, promise!🤭), it's always possible to say: "I'm not sure, but I think that…", "I don't have the answer right now, but I'd be happy to get in touch after the talk when I've found out!"
Get in touch to tell us where you could present by email or on Slack!
Use the Presentation Kit to prepare for your event 🗂🤩
Access and download the presentation kit (link below). If it's not translated, you may need to take some time to translate it into your language. It's rather short, and it's a good way to memorise the presentation 😏. However if you need help with translation, we have contributors ready to help out!
Please share with us your translated version (as it can serve to other contributors who wish to present).
Ask advice on Slack, as well as tips to print stickers and presentation material.