Open Food Facts turns 4, 83K food products in open data!
Open Food Facts
launched 4 years ago on May 19th 2012. Following the paths of free and open projects like
Wikipedia
and
OpenStreetMap
, it has published open data for 83 451 food products from 141 countries thanks to the work of its 3776 contributors.
Open Food Facts contributors use their smartphones to scan barcodes of food products at home or in stores and to take pictures of ingredients lists and nutrition facts table. All the data then becomes available on the Open Food Facts web site.
The data is published under a free licence (Open Database Licence – ODbL) and it is reused in more than 30 other apps, services and products, ranging to games to educate about nutrition like How much sugar?, to mobile apps for persons with special diets (without allergens, palm oil, high sodium / fat / sugar content etc.), public health scientific studies, and even connected devices (a kitchen scale).
If you think more transparency, information and knowledge for consumers is a good thing for the world, join us to open food products on Open Food Facts and now cosmetics on Open Beauty Facts! Discover the project, install our mobile app, and come discuss with us on our Slack.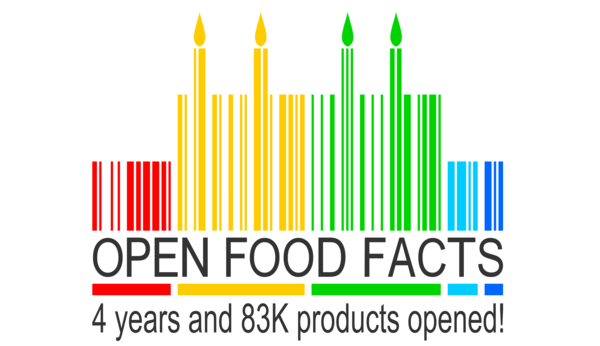 Original launch announcement in French on May 19th 2012.
4 years anniversary announcement on Hackernews.