Open Food Facts is looking for a front end/mobile developer
(
Français
)
As part of its growth and international expansion, Open Food Facts is looking for a front end/mobile developer, who likes to have a large-scale impact and is sensitive to the values of transparency, common good and knowledge sharing. Full remote work possible, full/part time and terms to be discussed.
Open Food Facts is an open collaborative project, created in 2012, which implements transparency to transform the food system. In 2015, we supported the launch of the 5 Color Score, now known as Nutri-Score. In 2021, we launched the Eco-Score which earned us the support of the Google.org foundation. The next few months will be devoted in particular to the extension of the Eco-Score in Europe and beyond, and the launch of our brand new mobile application.
Open Food Facts has a small permanent team (4 people) with very varied missions and technologies, which works hand in hand with a community from all over the world.
As part of its growth and international expansion, Open Food Facts is looking for a front end/mobile developer. Its main tasks will be :
develop and maintain our new mobile app in Flutter
take part in the evolution of the front end of the main web platform

support the community on all mobile projects.
S(he) will also participate in interface design, user experience and community animation (especially developers).
All his work is produced under a free license, trying to involve the community as much as possible through discussions, documentation and support.
S(he):
enjoys teamwork to achieve goals with social impacts
is creative and likes to equip a wide range of audiences through intuitive and accessible interfaces
likes to learn new technologies and adopt good practices to improve
is independent on its missions with good communication skills, in an international context (English essential, other languages ​​appreciated).
S(he) already has experience in mobile development and front end applications, ideally Flutter and Javascript. S(he) has an open source culture as well as a solid knowledge of the web and collaborative development (Git, GitHub, …). Experience in the field of data visualization is a plus.
Open Food Facts is an organization that is both demanding and very flexible. Open Food Facts is natively organized for remote work (preferable location between GMT-6 and GMT+6). Each employee is free to choose their computer equipment and daily tools.
Full or part-time position, junior or senior. Working method to be discussed (12-month renewable fixed-term contract or service). Gross salary of 2200 to 4000 € monthly on a full-time basis, depending on profile and experience.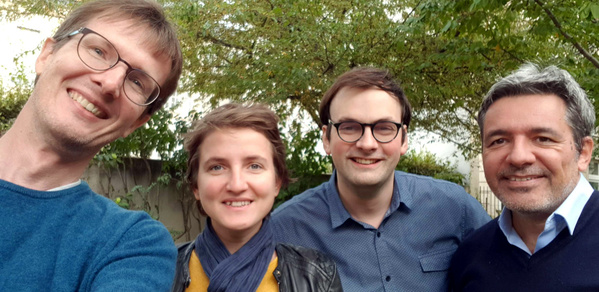 The core team, from left to right : Stéphane, Anca, Pierre and Charles. (And Alex, not yet in the photo, who joined us there a few weeks ago.)