Open Food Facts is getting global!
Creating a database of food products from all around the world was the goal of Open Food Facts right from the start, and thanks to the work of many contributors and to a new architecture to support internationalization, this global database is becoming a reality! Open Food Facts now exists in 12 languages and contains data for 15778 products sold in 83 countries. But it's just the beginning!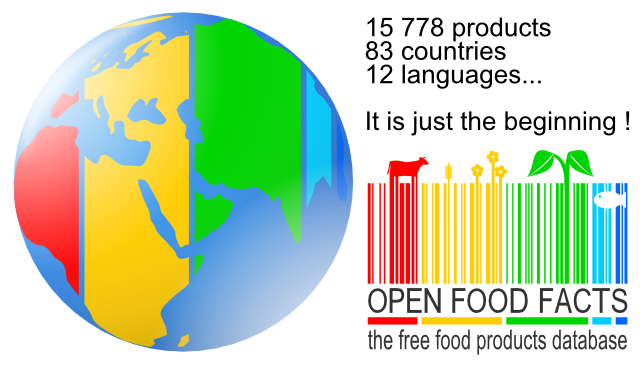 When Open Food Facts was being designed 2 years ago, organizing products by language did not seem to be a bad idea. So we created sub-sites in English for products in English, in French for products in French, and then we had sub-sites in 11 languages thanks to the help of many contributors who translated the site.
But that model soon showed its limits:
Each product was listed on only one sub-site, but many products are labeled in multiple languages.
Many countries share the same language and their products were mixed together. Having a single site in Spanish for products sold in Spain and products sold in Latin America made little sense.
Some countries use multiple languages, and products from Belgium, Switzerland, Algeria etc. were divided on multiple sites. South Africa has 11 official languages, and some countries have even more languages in use!
Dividing the products in separate sub-sites for each language also made comparing products between countries quite difficult. We believe there is a lot to discover by analysing and comparing data for food products.
New focus on countries and territories instead of languages
In order to overcome those limits, we designed and deployed a new architecture to support internationalization. It is centered around countries and territories instead of languages. We still have sub-sites (one per country instead of one per language), but food products are not divided between them. Instead the sub-sites provide different "views" : you can choose to see the products sold in a specific country, or the products from the entire world. You can also choose to compare products with other products of the same category from the entire world, or with only products available in the same country.
For each product we now track in which countries it is sold. The countries can be entered and editer like any other field, and by default we assign the country from which the product was first entered (using the GeoIP IP address to country database). In the future we can use other sources of data to have more complete lists of countries where a product is sold (e.g. using data provided by distributors and supermarkets, or using the geolocation of people who scan the barcode with a mobile application that uses Open Food Facts).
Open Food Facts still speaks 11 languages
12 in fact, we just added Hebrew thanks to Yaron who translated the site! For each country you can choose to display the interface in one of the official languages of the country, or in English. And in the future you will probably be able to see products from any country in any language.
For some of the 12 languages, the translation is still partial. You can help to complete the translation on our wiki.
And if you speak another language, we would be very interesting in having you help to add it!
Global taxonomies for categories, labels and ingredients
We already had hierarchies for categories (e.g. we know that if a product is in the Yogurts category, it should also be in the Dairy products category), but now those hierarchies are global. Spanish-speaking users can enter category names in Spanish, French-speaking users in French, but we can now map them to the names in English, which makes it very easy to compare a category of products from one country to another. Or to see products from all over the world for one category.
We also have taxonomies for labels (e.g. organic, fair trade etc.) and we will build others for the other fields (packaging, origins etc.).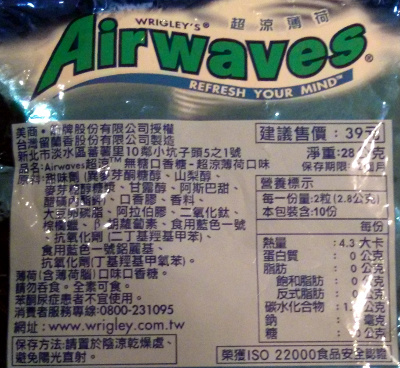 In fact we also have a project to build a global taxonomy of all ingredients. It would be a fantastic tool to build very useful applications. For instance next time you travel to a country for which you don't know the language (and maybe not even the alphabet, Chinese is all Greek to me!), you could just scan the barcode, and it would be very easy to display the ingredients in your language. With a global taxonomy of food products, we could also analyze the list of ingredients to tell you whether it contains gluten, lactose or another substance you may be allergic to.
Would you like to help to develop those taxonomies? Visit the Global Taxonomies page on our wiki!
It is just getting started
15 778 products is still a drop in the ocean of food products that are created all over the world.
12000 of those are from France where Open Food Facts started. So for France we now have a reasonnably representative set of products that allow some very interesting applications.
For instance it's easy to create graphs that show nutrition facts for a category of products (e.g. sugars and additives in sodas). In a click you can see what food additives are the most used, and in another click what additives are the most used in organic products. We have built a map that shows where products are made, and we even created a game to understand how much sugars there is in food products.
To replicate those applications and many more in your country, we need your help:
You can install our iPhone, Android or Windows Phone app and start adding products from your fridge and cupboards.

You can talk about Open Food Facts on your site or blog, share it on Facebook, Google Plus, Twitter and local social networks and forums.

You can help us with the translation of the site, the mobile app and the taxonomies.

You can start a community of contributors in your country.
Thank you!
And thanks a lot to Francesca, Javichu, Lu, Mohammed, Nazim, Sbinnek, Stefan and Yaron, who helped translate this announcement in Arabic, English, French, German, Hebrew, Italian and Spanish!