Open Food Facts is getting a makeover!
Open Food Facts is celebrating its 10th anniversary this year
🎂.
10 years of commitment towards food transparency and open data.10 years that have resulted in several successes:
🤳🥗
In addition to the

official Open Food Facts app

, which has been around since 2013, more than 200 food apps around the world source their data from Open Food Facts. Many now famous apps, such as Foodvisor, Yuka, El Coco were able to launch thanks to the open data of the Open Food Facts project.
🤳🥫

The Nutri-Score

voted in the French law on the modernization of the health system in 2016. Open Food Facts has been calculating this score since 2015 (which was initially called the 5-color score) thanks to the work of Professor Hercberg and EREN, and continues to support it in its international deployment.
🤳🌏 The birth of

the Eco-Score

in January 2021, the result of a consortium of actors of which Open Food Facts is a part, and which has already landed in real life, with several food distributors.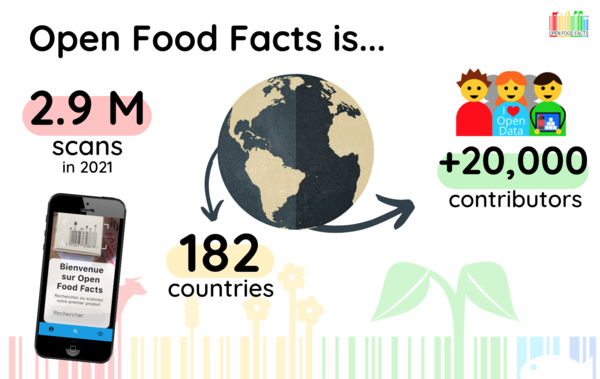 The floor is yours !


In order to mark the occasion and to be in tune with the times, we wanted to give our identity a new look, with simpler and more universal graphic codes, allowing us to engage with a wider community.
We chose to collaborate with Quentin Lagrange, a talented art director and graphic designer, to rethink the visual identity of Open Food Facts. Quentin has shown his expertise by working with the French Red Cross, among others.
During this special year, many more surprises are on their way, but we can already share with you this first milestone: Quentin is currently working on the new logo of our association.
As you know, at Open Food Facts, we don't do anything in our own corner, and we want to make sure everyone's voice is heard so… Today, the floor is yours!
You can share your opinion in a few clicks thanks to the form below (4 minutes tops, we promise!). ⬇️


Thank you for being part of the adventure

Thanks to Quentin for these beautiful proposals. We hope you like these logos as much as we do, and we are looking forward to reading your comments.
The choice of the logo and the optimization phase will take place in the coming weeks. We will get back to you with the new logo very soon and with many more announcements.
Thank you for your contribution, 🙌
The Open Food Facts team : Alex, Charles, Edouard, Gala, Manon, Pierre and Stéphane