Meat Alternative Challenge –
4x more products in the Netherlands!
Our special Meat Alternative Challenge is coming to an end!
From the 21st of October to the 25th of November, together with Harry Go Vert, we ran a special operation to collect data on Meat Alternatives products in the Netherlands. 🇳🇱
Informing consumers about the emergence of new products
Reducing one's carbon footprint through food is mainly a matter of greening one's diet. As can be seen in the figure below, the most effective way to reduce one's footprint is to reduce the consumption of meat and animal products (dairy products).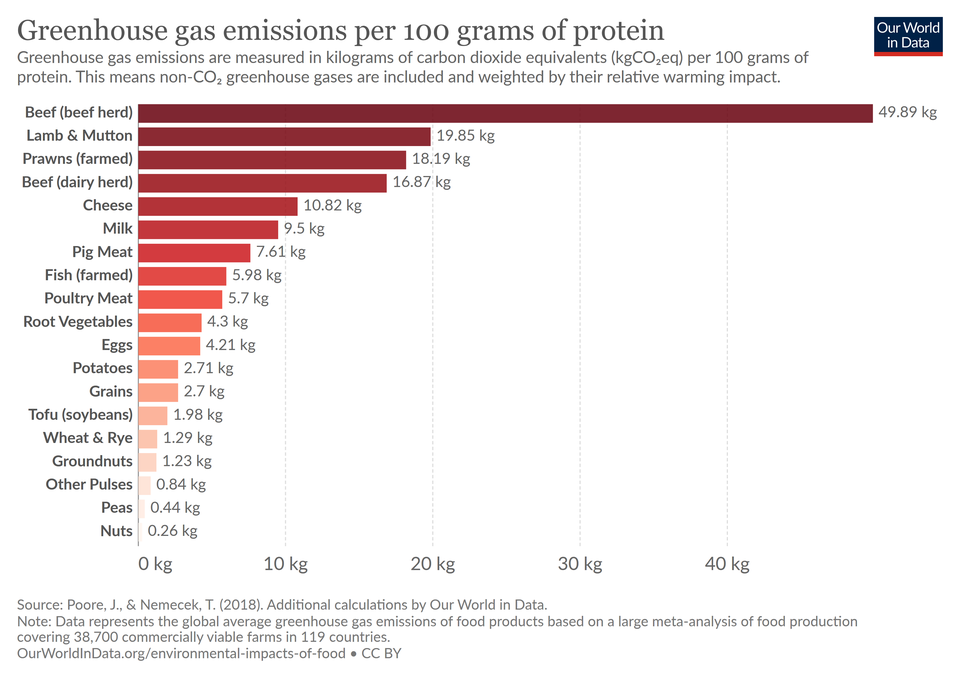 In the Netherlands, more and more meat alternatives are appearing on the market, so we decided to launch the "Meat Alternatives Challenge" to list as many of these products as possible.
Our intention with this challenge is not to promote meat alternatives, but rather to allow everyone to be aware of the variety of products on offer, and thus make better-informed decisions.
A month to encourage contribution
For this specific campaign, we have activated several channels to reach our goal:
The Open Food Facts community via Slack, which actively participated in adding / updating products and improving the taxonomies  
Both Open Food Facts' and Harry Go Vert's respective social networks to bring visibility to the Challenge
Our Hunger Games mini-game: a fun way to participate by categorising (or not!) the products suggested by the Open Food Facts robot (#robotoff)  
In the Netherlands specifically, Harry Go Vert also helped us to identify and reach out to:

Dutch manufacturers of meat alternatives products
Several vegetarian and vegan associations to help us relay the challenge to their members.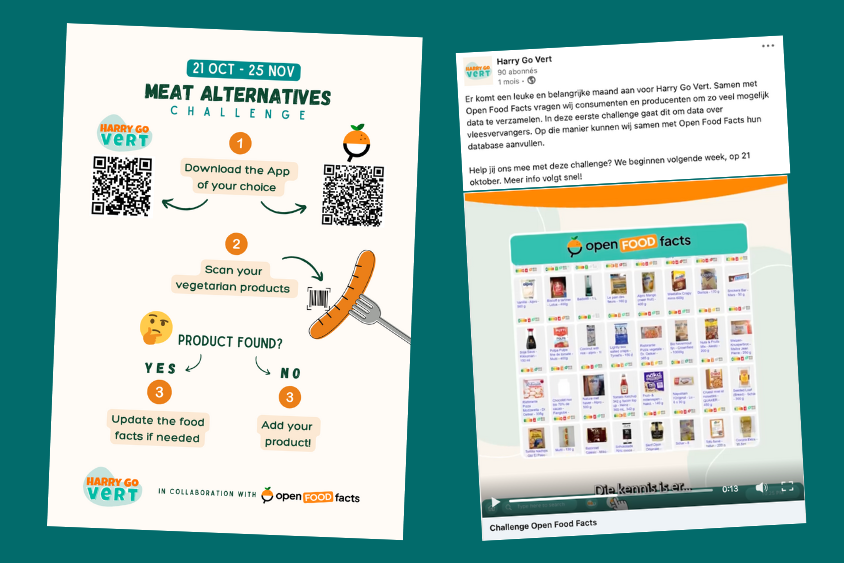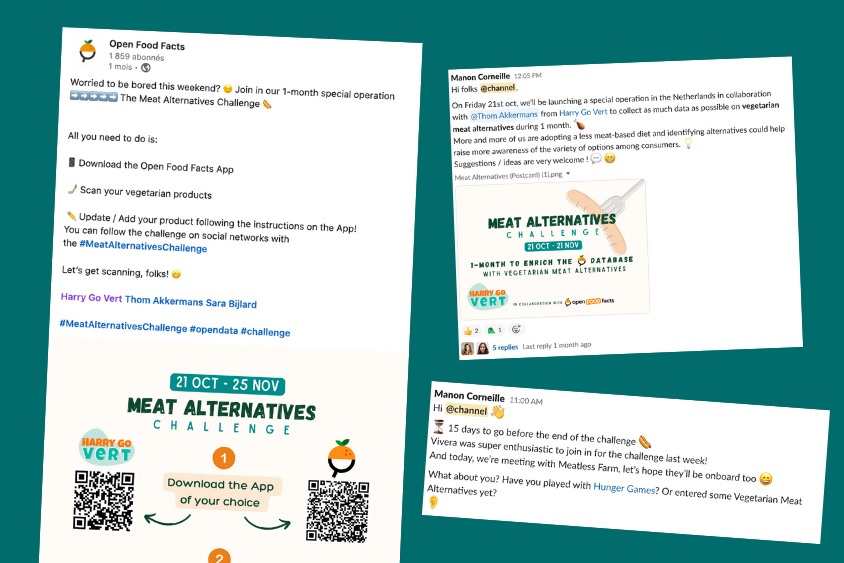 After one month of campaigning, we are very happy about the outcome of this operation, as it allowed us to increase the number of products in the database:
Before the operation, we had 80 products in the "Meat Alternative" category
Today, thanks to the commitment of the contributors, we have exactly 201.
… Not to mention the commitment of professionals!
Following discussions with several major manufacturers such as Vivera or Meatless Farm, we expect to receive data on almost 120 products within the next few weeks.
We met the non-profit Harry Go Vert a few months ago, following a request from Thom Akkermans, who discovered Open Food Facts as part of his volunteer work.
This Dutch-based organisation aims to help citizens make more sustainable choices in their daily lives. The advice offered by Harry Go Vert covers several aspects, including food. Given the existing synergies between Harry Go Vert and Open Food Facts, the idea of a joint project emerged quite naturally!
A big thank you to the Harry Go Vert team, especially Thom and Sara, for the energy they put into this first collaboration – Het was geweldig!
👋 Interested in organising a special operation in your country? Drop us a line at contact@openfoodfacts.org
If you too would like to contribute to the development of the Open Food Facts citizen project, please let us know by filling in the Contributor Skill Pool form. 
You can also join the community via Slack, everyone is welcome!