Contribute to a citizen project carried by everyone
Open Food Facts is a non-profit organisation and as such, we very much rely on donations to support our activity.
Since the start of November, we have started a key stage in our life as an association, our annual donation campaign.
When you give, here are 4 things you'll be supporting:
(1) The virtuous circle of food transparency
Food is a priority for health & the environment. Open Food Facts creates a virtuous circle between consumers, producers, and researchers.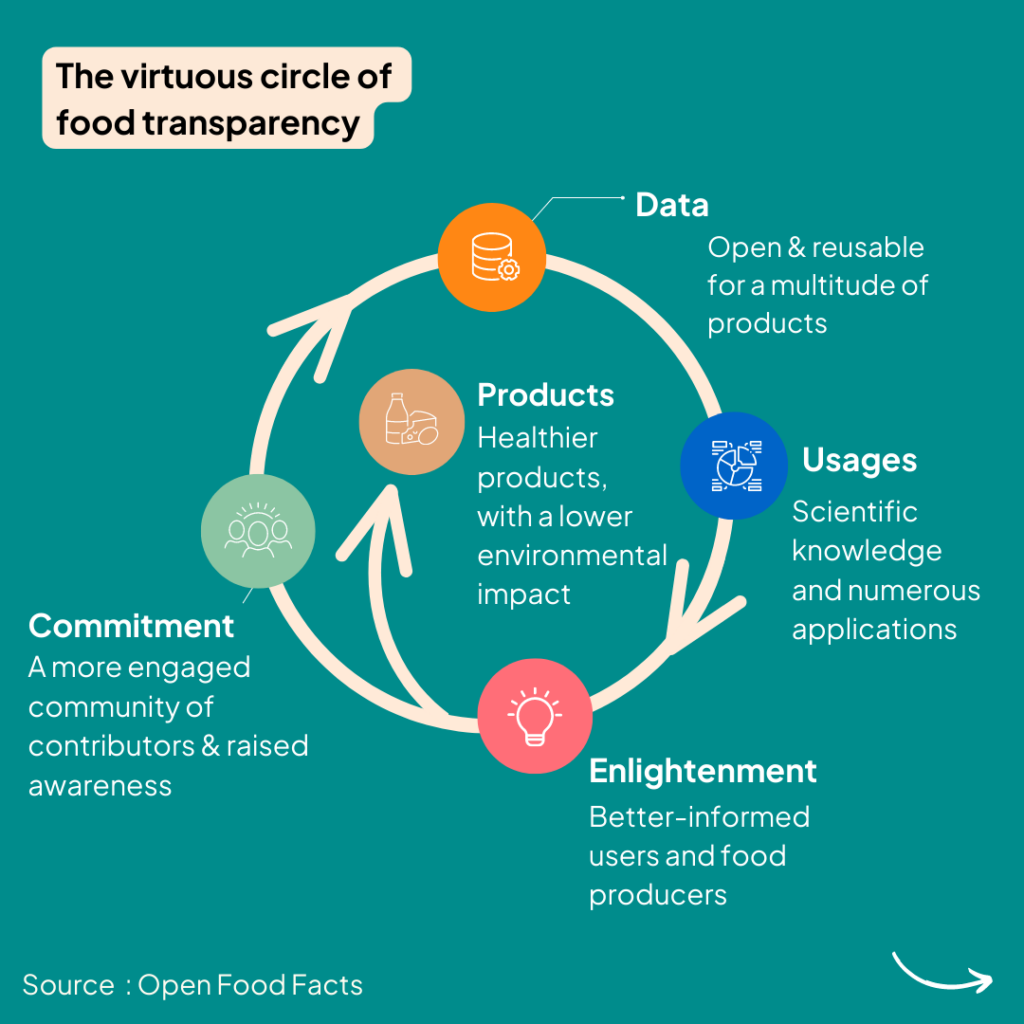 (2) A common good
Did you know that the Open Food Facts database is used by more than 200 mobile applications & services, as well as for large scale scientific studies? All because it is open source & freely available to all. This helps to multiply the effort to have a more transparent food landscape.
(3) A tool that's accessible to all
Pioneer in giving public access to the Nutri-score and now the Eco-score (as well as personalised scores), Open Food Facts makes useful and quality information accessible to the world.
(4) One big team effort
Open Food Facts is co-constructed by its users. It ensures its independence and its resiliency, guaranteeing the openness of data, software and processes. Thanks to our many contributors, the food database counts +2.5 million products worldwide. A real citizen project carried by everyone!
One way of joining this Food Revolution is to donate.
Technology: Development, maintenance, servers to keep the database growing and new helpful features to the Open Food Facts mobile app and website.
People and various on-going projects: A small full time permanent team that gives their best support to the Open Food Facts community, works with researchers, and makes food products data have the biggest impact possible on our health, our planet, and society.
Your donations are invaluable to fund the core of the project, to keep it going and to extend our impact beyond our borders.
Your donation is tax-deductible (in France)
A donation of €50 will only cost you €17 after tax deduction. By making a donation to the Open Food Facts association, you benefit from a tax deduction of 66% of your donation.
The procedure is very simple:
2. 🧾 Keep a copy of the tax receipt we send you by email.
3. 📃 When you file your tax return, make sure to check the "tax deductions and credits" box in step 3 of the form. And fill in box 7UF "Donations to other organisations of general interest" indicating the sum of the amounts donated to associations this year.
4. 💸 The amount due to tax is reduced by 66% of your donation, in our example, a reduction of €33.
Although we can only give tax deductions in France, you can give from anywhere in the world.
So please consider supporting this common good via the donation page:
A huge thank you from the entire community of Open Food Facts for your generosity & support! 💖
<– Press on the image for the video to start