Open Food Facts wins an Open Knowledge Award in Madrid, and it means a lot to us!
Open Food Facts
is one of the winners of the
OKFN Awards for Open knowledge, Open data and Transparency
organized by
OKFN Spain
with the support of
Open Knowledge
. The winners were announced in Madrid on Open Data Day, February 21st 2015.

Mejor negocio basado en conocimiento abierto #opendata @okfn_spain pic.twitter.com/jsoqXKfzS1

— Carolina (@carol1nth3sky) 21 Février 2015
On behalf of all Open Food Facts contributors, we would like to thank the jury and the organizers for this award that recognizes the hard work of all our contributors around the world to make food information more transparent. It means a lot to us that our first international award comes from Open Knowledge Spain:
Open Food Facts is about building together a worldwide open database of food products. We are a non-profit organization, from the civil society, and we share all the values that Open Knowledge promotes. In many ways, OKFN's very strong network of communities around the world is a model for us.
On top of that, Spain is the first country outside France (where Open Food Facts started) that adopted Open Food Facts. Our first Spanish contributors translated the Open Food Facts Spain website and mobile apps and since then they added data for more than 2600 food products, which makes Spain the second country on Open Food Facts in terms of number of products.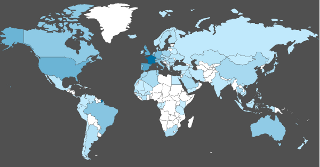 Open data, transparency and collaboration does not stop at borders!
While the OKFN Awards are organized by OKFN Spain, the organizers made a lot of efforts to make it a truly international award, by involving the worldwide OKFN community, having judges from many different countries, having all the information in both Spanish and English, and encouraging candidates from all over the world to participate. Thank you very much for that!
Likewise, we are making a lot of efforts as well to make Open Food Facts a truly global project. Our 1500 contributors have already opened data for 35 000 food products from 112 countries and territories using their mobile phones to take pictures of products, ingredients and nutrition facts tables. But for many countries, we are still far of having enough products to allow interesting applications and re-uses. So on Open Data Day 2015, we launched Open Food Hunt, an operation to open the data of food products from as many different countries as possible, and more importantly to create and develop strong local communities of contributors.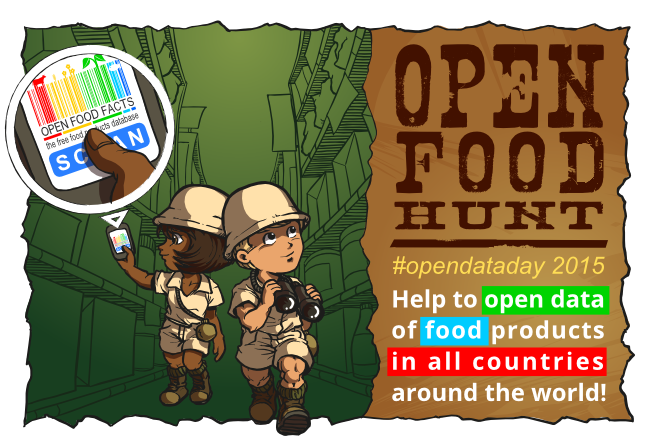 The Open Food Hunt page is available in English, French, Italian, Portuguese and Spanish and new translations are of course very welcome! 🙂
Would you like to help us to build a local Open Food Facts community in your country or be part of it? Get in touch!